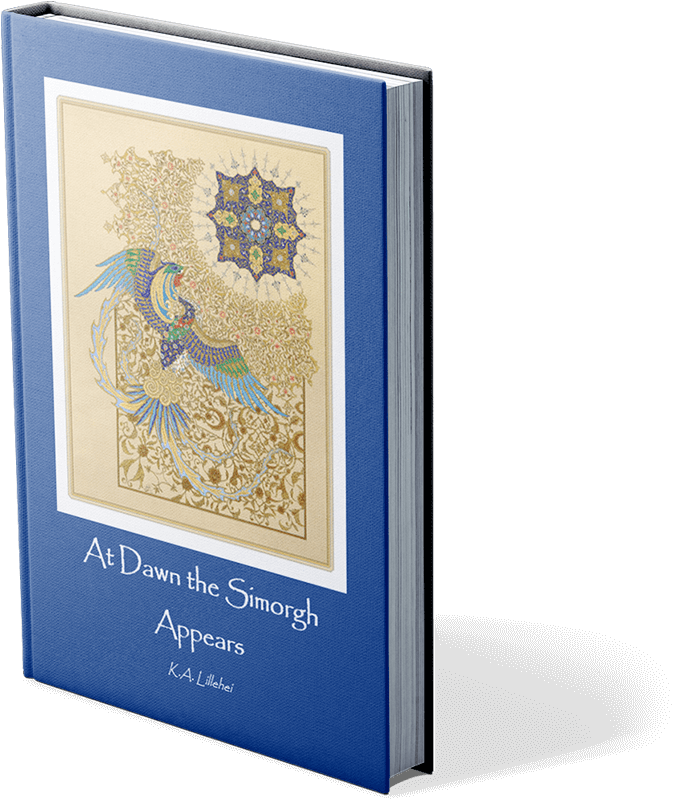 synopsis
A stone cell, pitch black, cold and dusty. Two women struggle to escape not knowing who took them nor why. While exploring an ancient Persian archeological site, Anna and Farah were taken by a gang of renegades, thrown in a truck and driven for hours into the mountainous high desert. Held captive for days awaiting the arrival of the gang leader, they share their fears, but also memories of childhood and families, joys and sorrows.
Using their wits and courage, will they be able to escape? For all their external differences, Anna and Farah discover a bond – commonalities, shared ideologies and beliefs. Superficially they are as different as night and day. Sisters beyond time, language, culture and religion. Like modern-day Scheherazades, through their stories the women discover a universe where their outer worlds divide, but their inner worlds connect.
book details
| | |
| --- | --- |
| Type | Tale/Fiction |
| ASIN: | B08P7ZHFKC |
| Publication date: | November 26, 2020 |
| Kindle Pages: | 224 |
| Paperback Pages: | 395 |

BookLife Talks with K.A. Lillehei
Set in the 1970s and following the lives of two women, Lillehei's At Dawn the Simorgh Appears is based on the poem "The Conference of the Birds" by Farid ud-Din Attar, which was written in 1177 and is part of the Persian epic about the mythical Simorgh, a gigantic and kindhearted bird.
Your Title Goes Here
Your content goes here. Edit or remove this text inline or in the module Content settings. You can also style every aspect of this content in the module Design settings and even apply custom CSS to this text in the module Advanced settings.
What is the story behind this? Why and how did you write it?
Since childhood, language and cultures, especially mythology, have fascinated me. It was natural that I would pursue a PhD in linguistics and anthropology. Although now I'm a data linguist, I began as an anthropological linguist, which allowed me to explore cultures and languages. For decades, I studied Middle Eastern cultures, which altered my perspective of the people drastically and positively. It's important to look beyond the obvious, the images portrayed in the West. I became passionate about sharing awareness and knowledge from the other perspective, which is seldom discussed unfortunately. In the West, we are less familiar with Middle Eastern myths, because Greek and Roman mythologies form the core of our traditions. Myths help explain cultural and societal values. As I read the incredible stories, I found the same themes as in our stories in the West and discovered that we have more in common than we tend to think; I became intent on promoting rapprochement and building bridges.
What was your writing process like?
I constructed the story line to follow the three-part arc of the Simorgh epic. In the first part, the female protagonists are held captive in a dark cell, in a metaphorical state of unknowing. In the second part, they escape, which begins a physical and metaphorical journey that entails seven challenges and ends in a major conflict that brings about transformation. The third part is the denouement, the unfolding of the story and its resolutions.
What kind of research did you do to ensure the historical and cultural accuracy?
The characters were very clear. I spent hours interviewing Farah, my Persian teacher. The stories of incarceration in Evin Prison in Tehran are true, as are the beautiful stories of her family. As for Anna, she is based on me, and Arabic speakers will recognize that her name means "I," so I know that character well. I also know the desert well, having grown up in the American Southwest. Living in an Iranian community for decades gave me personal, firsthand insight into the Persian lifestyle and philosophy. I also spent hours online researching everything from social customs to the area's fauna and flora. For example, I spent at least 30 minutes listening to one bird call, simply to transliterate it as "jit-jit-jit"—but that's the joy, and the consequence, of having an academic background. Besides, research is a writer's staple, and it's great fun!
How do you imagine readers at this moment will connect to At Dawn the Simorgh Appears?
The story embodies universal themes of awareness, transformation, family values, commonalities, and so on. The real story is about the women, their search for their own identity, and how they are transformed by each other and achieve their full potential. These concepts are beyond time and place and could easily be adapted to anywhere, including the streets of New York or London. The human struggle to find oneself is eternal. I hope that readers will recognize a universal truth in the characters and find some insight into their own relationships and sense of self.
Are you working on a new project?
Yes, several. The next book is about Sam, a refugee boy who crosses the Zagros Mountains into Turkey to reach safety in the West. He is accompanied by his mythical hero, Rostam, and his horse, Rakhsh. I am also working on a book about a man searching for his father and overcoming the loss of the love of his life. This book is based on the myth of Arash the archer, and Arash is actually the male protagonist in the Simorgh story, which might be called a "synquel." The Simorgh and Arash stories will ultimately converge, producing a sequel featuring the main characters of those two books.
In this debut novel, gunmen capture an archaeologist and her interpreter during a visit to ruins in Iran.
Anna, a professor from the Pacific Northwest, met Farah in Paris. She hired Farah to interpret Persian for her at ancient Iranian ruins. The excursion takes a dangerous turn when armed men kidnap the women and drive them to a holding cell. Now, Anna and Farah suffer darkness, strange animals sniffing at the door of their stone prison, and the stress of an unknown fate. To maintain their courage, the women exchange memories of childhood. Farah talks of her beloved father and sisters and time spent in a poppy field. Anna remembers a lonely but satisfying life with her grandparents on Bainbridge Island, surrounded by books and horses. Eventually, a young boy named Samir brings the prisoners bread, cheese, and water. Through his visits, they learn of tension among the gunmen. Some follow the commander, Arash, whom Anna finds striking from a distance. Others obey the vicious upstart, Hassan, who was part of a group that killed Samir's mother and sister. While examining Anna at knife point, Hassan lightly draws the blade across her flesh to threaten her. Even if the women do escape, they may not get far. Lillehei's novel embodies how Anna feels about the desert, which possesses beauty that she finds to be "subtle and hidden." Tightly held secrets inform several characters' arcs, the most shocking being Samir's. Readers learn about Persian language ("joon" means soul) and myth. The simorgh is the "eternal bird that nests in the Tree of Knowledge, messenger between sky and earth." How this legend relates to the plot may require patience from audiences who prefer overt spectacle in their epic adventures. The author does crank up the tension incrementally, but the burgeoning friendship between the analytical Anna and the emotional Farah remains the focus. Lovely moments abound, as when "the azure skies" and "the pastel array of colors of the air where it met the white wisps of cloud" summon the women home. A key incident leads one of the protagonists to an intriguing finale.
A grandly emotional piece that celebrates family and the overlap between Eastern and Western values.
In At Dawn the Simorgh Appears by K.A. Lillehei, an archaeologist named Anna meets Farah, a Persian artist, in Paris and asks her to act as her interpreter on a trip to study ancient Iranian ruins. While in Iran, they are kidnapped by violent outlaws and find themselves imprisoned with no means of escape. The two women are unsure why they have been kidnapped or what their fate will be, but soon they befriend a young boy named Samir who brings them food. To pass their time, Anna and Farah mentally escape the prison by sharing stories of their childhood. The leader of the outlaws arrives and it seems clear that neither woman nor Samir will survive his temper. They manage to escape into the Zagros mountains. As they head for the safety of Iran, their journey is filled with dangers from landmines, corrupt border guards, predators and the outlaws in hot pursuit. With the Iranian border in clear sight, the trio has one final obstacle to achieve, only this one is the most dangerous.
At Dawn the Simorgh Appears by K.A. Lillehei is a wonderfully colorful story that will transport you into the beautiful landscape of the Middle East. The descriptive detailed narrative brings everything to life, from the musty prison cell to the fragrant mountains. The main characters have distinguishable personalities and although they are so different, they gather strength from each other as they try to escape the prison of their painful memories. The plot moves at a fast pace and the obstacles they have to face before and after their escape builds great tension. With Anna and Farah sharing the emotional stories of their past, it builds a great backstory for their characters. Anna is an inspirational woman with an enviable strength while Farah's sensitivity is heartwarming. The story also highlights the ancient cultures and architecture of the Middle East. There is also an important message threaded throughout the story of how people faced with difficult childhoods can make life-changing choices that will take them on different life paths. The ending was a surprise twist and does leave room for a sequel.
At Dawn the Simorgh Appears is a gripping story that illustrates the strength and resilience of two women who are thrown into a dreadful situation that appears hopeless. Anna, an American scientist, and her Persian interpreter, Farah, are kidnapped from an archeological site in Iran by armed marauders and held prisoner in a stone hut. They have no idea where they are being held, and the inside of their cell is shrouded in darkness. To keep from becoming overwhelmed by their circumstances, Anna and Farah pass their time together reminiscing about childhood memories.
When an opportunity to escape arises, the two women take advantage of it. A young nomad boy, Samir, who is at the bandits' hideout, flees with them in a stolen jeep. They get help from a group of nomadic tribespeople, and K.A. Lillehei includes interesting details about people who live a nomadic lifestyle. Anna, Farah, and Samir are guided by one of the young nomads through the Zagros mountain range, which are located in Iran and along the border areas of Iraq and Turkey. The plan is for the three freed prisoners to cross the border into Iran. Will they make it safely to Iran before the dangerous men catch up with them? If they survive, what kind of effect will this horrible ordeal have on their everyday lives?
At the beginning of this enthralling novel, Lillehei captures readers' attention with an excerpt from a story about the Simorgh, a compassionate female winged creature that appears in Iranian mythology as a benefactor to those in need. In chapter one Anna and Farah are discussing the shock and lack of understanding regarding their kidnapping and incarceration. Readers will empathize with their predicament and want to know the outcome. Throughout the book are excerpts of memories from the lives of the three escapees, along with mythological tales about strong women. All of the recollections and mythic tales play a crucial part in the storyline.
Anna and Farah have experienced far different cultural and lifestyle backgrounds. However, as the two women share their innermost thoughts and feelings about themselves a strong bond of friendship develops between them, which is wonderfully illustrated throughout the story. Anna studies ancient civilizations and converses with Farah in English and Farsi. Persian and Arabic words and/or phrases are used throughout the story, and Lillehei provides translations so there is no confusion about their meanings. Usage of metaphors adds depth to the text that conjures up images, thoughts, and feelings in readers' minds. This is an outstanding book that shows the strength of femininity in the face of monumental obstacles and how cultural background influences the manner in which people learn, live, and behave.